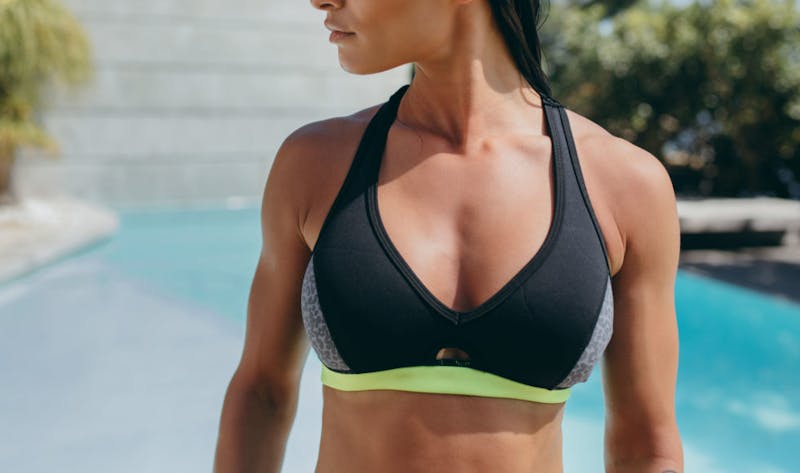 I just want to have "normal" breasts…..
Many of our breast augmentation patients come to us and say that they just want to look normal. So what is normal? Is it a B cup or C cup? Is it looking normal in clothes vs. naked? Is it being able to buy a particular bikini top?
Looking "normal" is not the same for everyone, but in most of our patients who have very small breasts, all of the above might fit. There is nothing vain about wanting breast implants so that you can feel comfortable at the pool. Buying sports bras and various tops can be a traumatic experience for some patients with very small breasts.
The biggest fear for a lot of these patients is that if they have breast augmentation, everyone will know they have implants. My answer is "not necessarily". Of course, close friends and family might be able to tell, but placing a small implant can give a very natural result that others would perceive as "normal". It is not uncommon in a very small person for me to use something like 225 or 250CC while in an "average" patient, I might use 325 or 350CC.
I recently met with a young woman who was getting ready to go to college. She had small breasts and was only 5'3" 105lbs. Her mother had breast implants in the past and was considerably larger than she was. The father was very concerned about his daughter having large implants (and rightly so). I actually met with him individually at his daughter's request. I was very sympathetic and told him I though he was perfectly reasonable to be concerned. I talked to him about how this would give her confidence, simply by making her feel normal. He was relieved and told me a month or two after the surgery what a difference it had made in her personality.
Implant choice is a very individual choice. The size of the implant of course has to fit your chest, but there are multiple sizes and profiles to choose from. External rice bags and various sizers in bras are notoriously inaccurate and oftentimes lead to patients choosing an implant that is too large for their frame. This leads to high revision rates because of implant malposition and asymmetry. We use the Vectra 3D imaging to provide a patient a 3D simulation of what they can expect to look like. This has been incredibly helpful and puts our patients' minds at ease.
So whether you want to be certain cup size or have a certain shape, come in and see us for a consultation to see what your options might be to look "normal". Call us at 512-337-6422 and visit us at www.drhaydon.com. We look forward to meeting you.