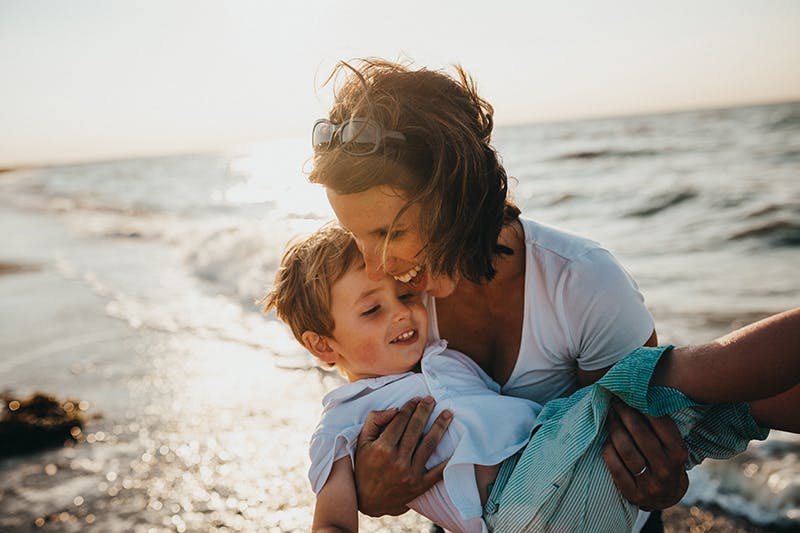 As parents, raising children is the single most gratifying thing that we will do in our lifetime. The aftermath however to a woman's body can be very frustrating. Women want to know "what can be done to get my body back?". The waistline is the most commonly treated area along with the breasts. The vast majority of women will benefit most from a tummy tuck which will remove skin excess and stretch marks while also tightening the muscle to keep the abdomen from protruding (and looking pregnant!). For those few with just some stubborn fat in the flank, liposuction might be the answer. Liposuction can be done by itself or in conjunction with the TT.
Breasts come in all shapes and sizes, but most of us have a common idea as to what the breasts should look like (in a perfect world). First of all, the shape should be full but not look like a beach ball. The nipple position should be above the level of the crease. Centrally, there should be cleavage that can be further enhanced by a good bra. In some women a reduction might be in order to lift the breast and make it a little smaller to reduce neck, shoulder and back pain. Others will benefit from an implant with or without a lift to reestablish the volume deflation they've incurred.
Just as C-sections can cause certain issues with the muscles and scar tissue, vaginal births have their own set of changes. Sometimes the stretch of the labia can result in excess labial skin that can show through clothing, make sexual intercourse uncomfortable, create discomfort with exercise, or just be unsightly to the woman. Labiaplasty is an extremely simple procedure that can easily remove this unwanted skin. It is usually done with general anesthesia since breast and/or body procedures are being done, but it can be an office procedure. Vaginal laxity is also a complaint for some women. Our DiVa laser and O-shot are two great modalities to address that. They are done in our SkinCare clinic and do not require anything for anesthesia other than topical cream.
The benefit to having these procedures done at the same time is that there is only one anesthetic and one recovery. Your surgeon might limit the number of procedures or time, but most things can be combined safely. Please give us a call at 512-337-6422 to schedule your appointment and visit us at www.drhaydon.com to get more information. Your consultation will be with Dr. Haydon. He sees all of his patients personally. We look forward to seeing you!